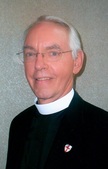 Greetings in the name of our Lord Jesus Christ!
We are a small gathering of faithful followers of our Lord Jesus Christ who are attempting to live out our lives in faith and catholic order, following the commandments and traditions enumerated for us in Holy Scripture, the early Church Fathers, and as expressed in traditional orthodox Anglican worship.
The Anglican Church is of the Catholic faith. The Apostolic Succession of our Episcopacy originated with the Apostles of Jesus Christ. We hold to the Seven Sacraments of the Undivided Church and believe that Eternal Salvation is available to all baptized believers through personal faith in Our Lord and Savior, Jesus Christ.
We are a mission church of the
Anglican Province of America
in the
Diocese of Mid-America
, under the guidance and authority of +Bishop Robert Giffin, Bishop Ordinary.
All are welcome here!
---